The Meryon Memorial drinking fountain can be seen on the left of the road that leads to the Pebble Beach Cafe and promenade. It was presented to Gosport Council by the mother of Lieutenant Commander Thomas Chalmers-Meryon who was lost at sea, Wednesday 29 January 1913. He was Commander of the H.M. Submarine C21 and was on the deck of the submarine when a wave washed him overboard.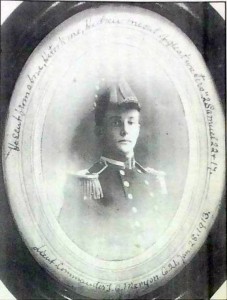 Three submarines had been engaged in exercises off St Andrews Bay as part of twelve boats of the Dundee submarine flotilla, and while C21 was returning up the Tay River in heavy weather a small squall struck her. Lieutenant Meryon, together with a leading seaman, was on the conning tower navigating. The submarine heeled over and Meryon was thrown off balance and flung into the water, and as he was dressed in oilskins and sea boots he disappeared almost at once.
Lieutenant Meryon, who was only 26 years of age when he died, passed out of the Britannia as a midshipman in September 1902. He became a sub-lieutenant in November 1905, and took firsts in his examination for lieutenant, to which rank he was promoted in 1906. He took command of HMS A10 in January 1910. He was appointed to the Vulcan for the Command of C21 on 8 August 1910 and had been in the submarine service for at least four years.
The memorial was unveiled on July 5th 1916 by Mrs Meryon who lived in Alverstoke. The memorial consists of a marble square with seats for two each side a push button tap with a drinking cup attached by a chain and a drinking trough for animals below. On top was a round brass sundial.
The centre of the memorial reads:
In memory of
Lieutenant Commander
Thomas Chalmers Meryon
Washed off submarine C21
Crossing the Tay Bar 28 Jan 1913
Aged 26
He sent from above
He took me
He drew me out of many waters
2 Samuel XXII 17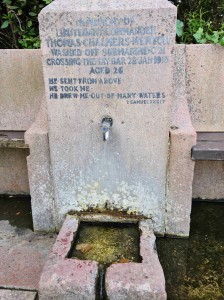 The memorial was vandalised, so in November 1922 Mrs Meryon asked the Open Spaces and Watch Committee of Gosport Borough Council to return the sundial to her. This they did but the tell-tale marks of where it once was can still be seen above the inscription.
In June 2022 the Memorial was given a makeover by Gosport's Streetscene. It was cleaned and tidied and made fit for use once more. The tap can be used and the benches can be sat upon. Sorry, no sundial.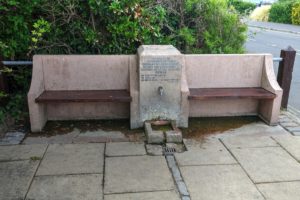 Submarine C21 was one of 38 C Class submarines built for the Royal Navy in the early part of the twentieth century. She was laid down on 4 February 1908 and was commissioned on 18 May 1909. The submarine had a length of 142 feet 3 inches overall, a beam of 13 feet 7 inches and a mean draft of 11 feet 6 inches. It displaced 290 long tons on the surface and 320 long tons submerged. The C-class submarines had a crew of two officers and fourteen ratings. Each was armed with two 18-inch torpedo tubes in the bow and could carry a pair of reload torpedoes.
C21 survived the First World War and was sold for scrap in 1921.
Links:
Submarine C21