In 1852 two primitive batteries were built on Browndown Point at Stokes Bay. These two 'Browndown Batteries' were similar in shape and size and each consisted of an earthen rampart with prepared positions for moveable armament. The Western battery was completed in August 1852 and the armament mounted with the Royal Artillery immediately taking possession. The armament of these gun batteries was listed in a return dated 1860. Browndown Battery East had positions for 3 x 68pr Smooth Bore of 112 cwt. and 7 x 8-inch S.B. of 65 cwt. whilst Browndown Battery West had positions for 3 x 68pr. S.B. guns and 8 x 8-inch S.B. guns.
| | |
| --- | --- |
| 8-inch S.B. of 95cwt | 68pr Smooth Bore 112cwt |
In 1856, after inspecting the British Foreign Legion encampted at Browndown, Queen Victoria and Prince Albert also visited the two batteries at Browndown. The Standard reported "The Queen and Royal Family subsequently visited the earthwork batteries lately constructed, of a half-moon shape, mounted with traversing heavy 68 and 32 pounders commanding the whole lines of approach from Hillhead and Spithead from the Kicker Point. These batteries are particularly formidable and would destroy any enemy passing up channel or attempting a landing on the north shore."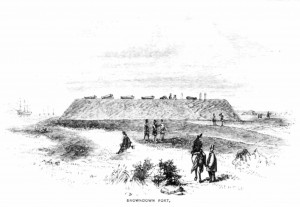 Both batteries were heavily criticised by James Fergusson writing in 'Portsmouth Protected' which he published in 1956. In it he wrote that:
The two batteries on the shore were erected in 1852, are two pentagonal bastions gone astray. Everyone knows that this form of work was invented and is used because all its faces are capable of being flanked and protected either by the curtains or by the bastions on either hand, but it is very difficult to see why such a form should be used where there arc no flanks, and no system of mutual defences. It seems like repeating by rote a language which is not understood by those who use it.
In this instance, as all the guns are en barbette, the form of the work is of less importance, and to my eye the worst feature in these works is, that the guns are jammed into two groups, so close together that either may be covered by a ship's broadside; had the 22 guns these works mount been dispersed over the whole space between the two bastions they would have been far more serviceable, and far more difficult to silence; they might have been rendered almost as safe from assault with the same expense, and easily made more so for a very small sum of money. It will he observed that the forts are mere earthworks, sloping towards the sea at an angle of 45 degrees without a ditch or wall or any sort of defensive expedient; and as they possess in themselves no flanking returns and neither sees the outside half of the other, any active soldiers or sailors could run into them without any difficulty. All that has been done in this way is to scrape away the shingle to a depth of 5 or 6 feet from the foot of the ramparts and to a width that an active man could jump over if necessary.
In the interior there is a small barrack loopholed for musketry, but, being square, it has its convenient dead angle, and having no flanking defence, cannot anywhere see the foot of its own wall; so that it could not resist long, nor prevent a party from trundling the guns into the ditch, which is all that would be attempted.
Fergusson proposed a system of moats and ramparts to defend Stokes Bay. As a result Major Jervois R.E. later to become the Inspector General of Fortifications (the title given to the Royal Engineers commanding general) designed an alternative Stokes Bay Moat defence scheme which became known as The Stokes Bay Lines. By 1860 the east battery had fallen into disuse and was completely demolished, leaving the unrecognisable bits and pieces that survive today The western one was marked on plans as 'remodelled' but in reality it was also demolished to make way for a completely new Browndown Battery, which survives intact in its later 1904 form.
| | |
| --- | --- |
| Remains of the Browndown batteries seen from the top of No.2 Battery. | The jumbled remains of Browndown Battery East is just beyond No.2 Battery.A Measured Mile marker post can be seen directly on top of it in this photograph taken in the 1990s.In the foreground is the concrete gun apron for one of the two 6-inch B.L. guns on top of No.2 Battery |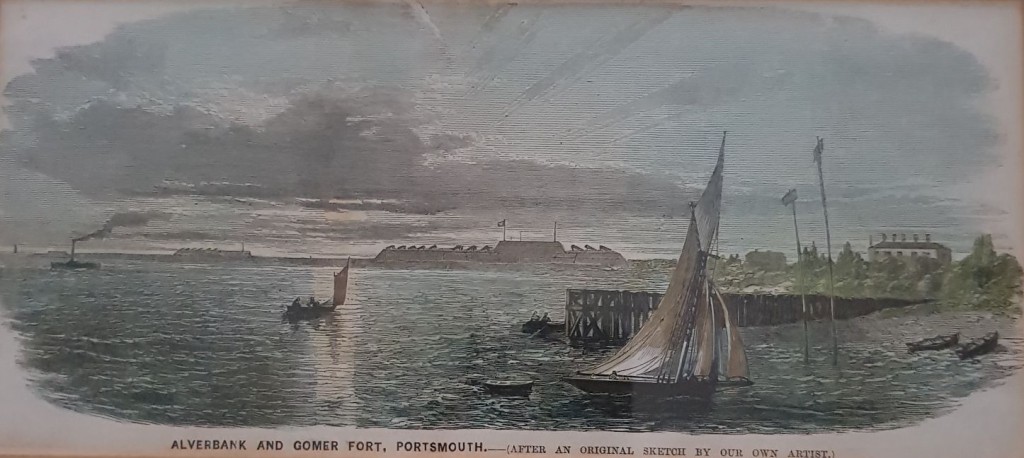 In 1888 the need for two heavy guns to protect the deep water anchorage off Browndown Point resulted in the demolition of Browndown Battery East and the rebuilding of the west one. It was extensively remodelled to mount two heavy 12.5-inch 38 ton Rifled Muzzle Loading guns on the terreplein in open barbette positions. These were paid for at a cost of £4,237 under the Imperial Defence Loan. Underneath and between the two gun positions were the usual shell and cartridge stores with ammunition lifts to the gun positions.
| | |
| --- | --- |
| Browndown Battery 1891 Plan: CS=Cartridge Store SS=Shell Store SA=Side Arm Store M=Expense Magazine | The new 1898 Browndown Battery for two 9.2inch Breech Loading Guns: CS=Cartridge Store SS=Shell Store AR=Ablution Room RO=Royal Ordnance Store |
The rear of the battery was closed by a loopholed brick wall, the centre of which projected northwards (landwards) to form a 'V' shaped defensive structure known as a redan. Shortly after completion a small barrack room for two officers and servants was constructed against the gorge (rear) wall. Soldiers to man the guns were quartered in nearby Fort Gomer. The guns were still in position in 1898 when the Montgomery Committee proposed to replace them with two 9.2-inch Breech Loading guns acting as a gun group with two 6-inch guns on nearby Stokes Bay No.2 Battery. The new battery received its armament by 1904 but was declared superfluous by the Owen Committee in 1905.

The Defence Committe reported that 'The 9.2-inch B.L. gun, Marks IX or X, when a quarter worn, has a penetrative effect nearly 50 per cent greater than a new 12.5-inch M.L. gun. It can be fired three times as fast, and its projectile costs less than half that of the 12.5-inch projectile of the same class. The 6-inch B.L. Mark VII, when quarter worn, has a penetrative effect about 20 per cent greater than a new 10-inch M.L. gun. It can be fired nearly six times as fast, and it projectile costs about one-fourth that of the 10-inch projectile of the same class.. '
The 9.2-inch BL was considered sufficient for use against Armoured ships up to a range of 6,000 yard.
| | |
| --- | --- |
| A 12.5inch Rifle Muzzle Loading Gun. | A 12.5inch R.M.L. gun of the type mounted at Browndown Battery shown here in action in Cork. |
| | | |
| --- | --- | --- |
| | A 9.2inch Breech loading Gun Mark V | A 9.2inch Breech Loading Gun Mark V of the type mounted at Browndown Battery in 1904. |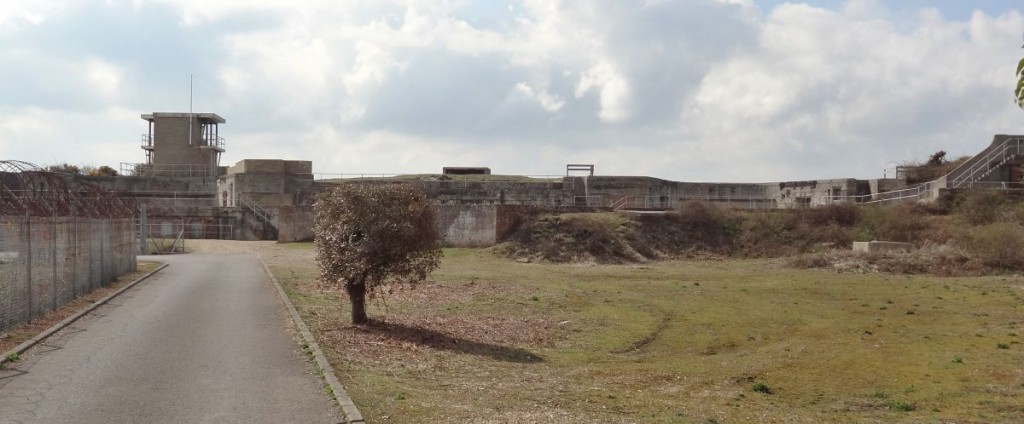 Browndown Battery can still be seen within the perimeter of Browndown army training camp and until the 1990s was looked after by a volunteer workforce of army cadets. Browndown Battery has listed building status. but in not accessible by the public. You can however walk past it when the firing ranges are not in use (i.e. the red flags are not flying).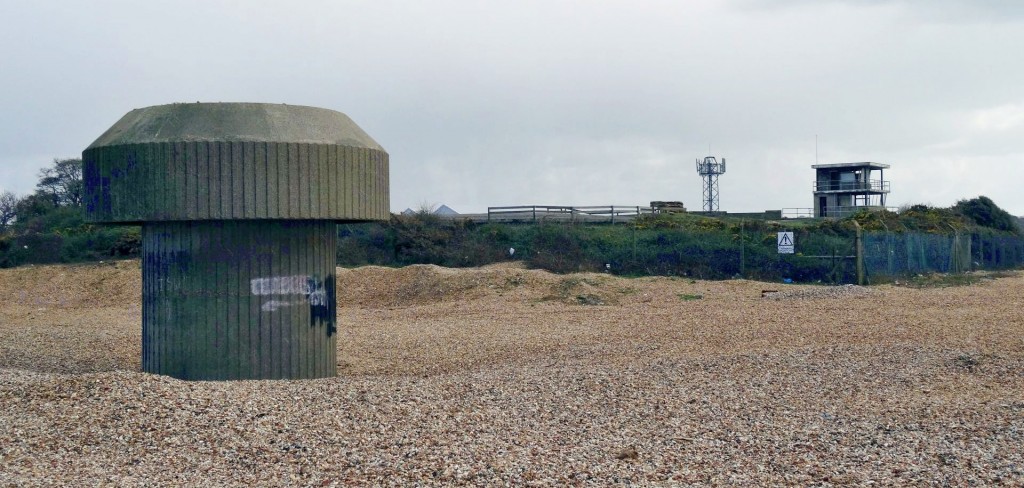 More reading: Solent Papers No. 8 The Stokes Bay Defences by David Moore: Available from The Friends of Stokes Bay publications