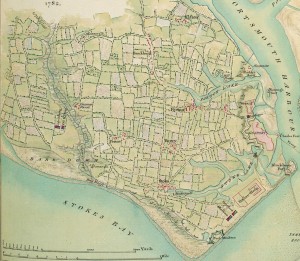 In 1782 the Alverstoke Court Leet and Court Baron (a type of manorial court or English criminal court for the punishment of small offenses) met at Stokes Bay House, a public house on the beach at Stokes Bay. Milne's map of 1791 map shows the Three Guns Ale House at Stokes Bay probably the Stokes Bay (Public) House.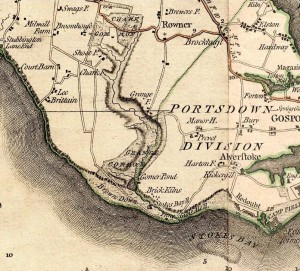 A drawing of the public house appears in Gosport Records No 6 page 19.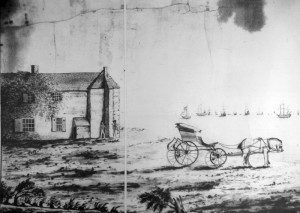 In 1784-85 a large swathe of land along Stokes Bay, from Fort Monckton to Browndown, was acquired by the Board of Ordnance. The Board also acquired Old Bay House and Gomer House at Stokes Bay. Old (Stokes) Bay House was south of the site on which Lord Ashburton built his Bay House in 1840 whilst Gomer House was further inland.
A plan of ordnance lands at Stokes Bay in 1832 shows two groups of houses along the Stokes Bay Road close to the sea, referred to as Old Bay House and New Bay House.
A plan of 1832 shows the Eastern house as Old Bay House. The names became mixed on maps making it difficult to see which was Old (Stokes) Bay House.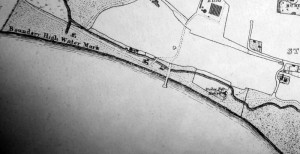 A map military of 1856 shows a Coast Guard Station where Old Bay House stood and Stokes Bay House further east but these did not survive the building of the Stokes Bay moats in 1860.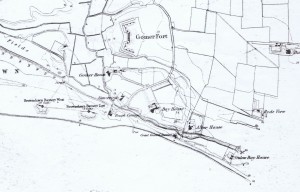 In 1839 The Ordnance declared the northern strip of its land between Marsh Lane (now Anglesey Road) and Gomer 'surplus to requirements' and put it up for auction. Lord Ashburton (Alexander Baring), John Wilson Croker, John Brett Purvis, Joseph Paddon and Dr Henry Burney all bought portions; the land was conveyed to them in March 1840; Ashburton had Old Bay House demolished to improve his view. Ashburton built Bay House (1840-42); Croker built Alverbank House (1840); Purvis, of Bury Hall, added the land to his farm; likewise Paddon added the land to Alvercliffe; Burney's purchase included Gomer House; Compigne's land, at the western end of the Bay, was advertised for sale as building plots. Between 1848 and 1861 the Board of Ordnance / War Department repurchased 180 acres paying over £53,000 for land which they sold for about £3,900 in 1840 (although Bay House and Gomerina had been built on the land in the meantime).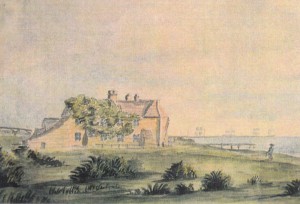 A few drawings exist of Old Stokes Bay House. A painting by Captain Durrant named as 'Ivy House, the home of Lieutenant William', appears to show Old Stokes Bay House. A drawing by Capt. G. Civil of Old Stokes Bay House with the nearby Ordnance brickworks and the River Alver flowing between was published in Dr White's 'A History of Gosport'.