Hasleworth Castle (or Hasilworth) was erected on the point south of Gosport, at Stokes Bay, close to the place where the River Alver flowed into the sea at the 'Great morass', as part of Henry VIII's programme of fortifying the south coast against possible invasion. Hasleworth Castle was part of Henry's second fortification series which also included Southsea Castle, Sandown and possible the castles at Hamble and Netley.
The first mention of the Castle at Hasil Worth is when Richard Uvedale was appointed as its captain in 1545 by Sir Richard Long, a member of the Privy Council.
'n Lent last the King, at the suit of my friend Sir Ric. Long, granted this bearer, my friend Mr. Uvedale, his Grace's servant, the captainship of the new blockhouse or fortress upon the point of Hasil Worth next Portesmouth, as Uvedale had served well at Boullongne last year. I beg your favour that he may obtain his suit and have his bill signed. Barbican,' 13 July 1545.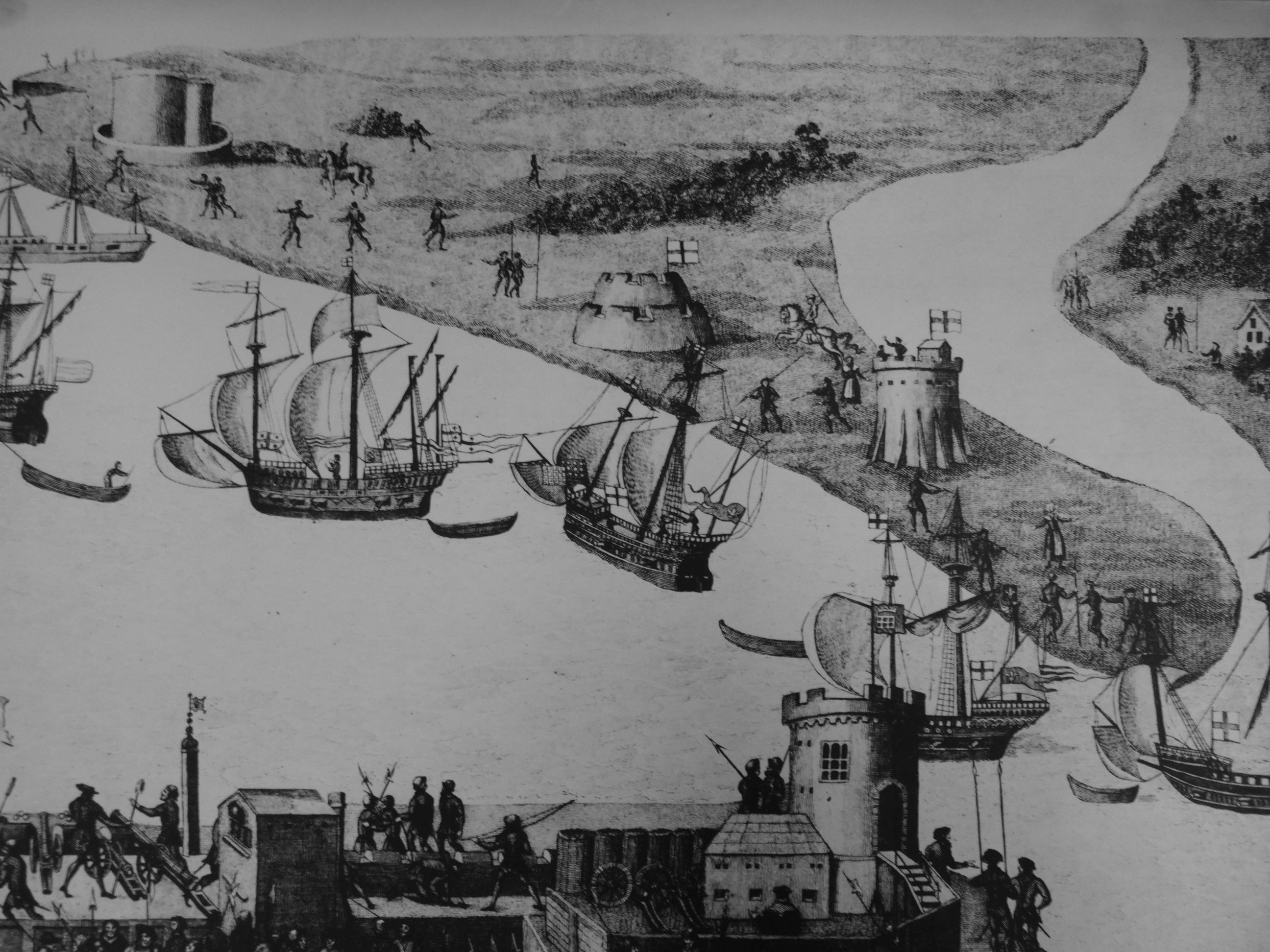 This was the year of the great naval battle at Spithead during which the Mary Rose sank. The famous Cowdray Print of 1545 shows it as a tall, circular keep surrounded by a moat and outer wall, but this print has the wrong shape for Southsea Castle and therefore Hasil Worth Castle may not have been circular at all.
A map in the British library, dated circa 1552 also shows the Castle as round and with a moat.
https://www.bl.uk/onlinegallery/onlineex/unvbrit/t/001cotaugi00002u00015000.html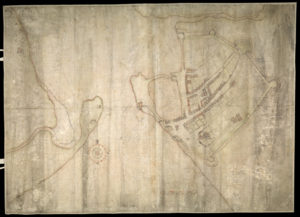 A copy of a 1625 map shows it as square. An armament list of 1547 shows the castle to be much more lightly armed than the nearby Lymden's Bulwark at Blockhouse Point including demi-culverin and saker.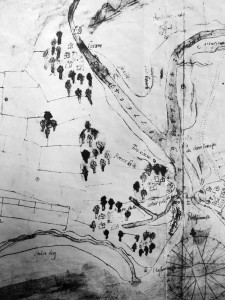 There is a story that the castle was 'beaten down' when King Phillip of Spain sailed into Southampton in 1554 to marry Queen Mary and the castle failed to salute him, as did the others in the area. Burt's map of 1587 shows it as 'Hasleworth Castle beaten downe by King Philip' and positions it close to the outlet of the River Alver where Fort Monckton is now.
| | |
| --- | --- |
| Fabvoliere map 1625 | Burt's map of 1587 reproduced in 1890 |
King Edward VI showed great dissatisfaction with the repair as well as the location of the bulwark and forts flanking the harbour entrance after a visit in 1552, to 'divers Bulwarkes, as Chatertons, Haselford with other' and it is likely that Fort Haselworth was scrapped, along with other outlying fortifications after a commission of survey was carried out by the Marquis of Winchester in 1556. In 1588 it was described in a document held in the National Archive as as 'decayed and fallen down'.
By 1628 it is mentioned in a document in Latin as a 'Castle in ruins formerly called Hasleworth Castle'.
It is marked as a 'ruin' on a maps of 1595 and 1607 by Norden. Speed shows it on his map of 1611 as 'Worth Castle'. Blaeu's map of 1645 also labels it as 'Worth Castle' as does Jansson's of 1646, Blome's map of 1673, Kitchin in 1751, Harrison in 1788. Following the building of Fort Monckton the castle is no longer indicated on maps, such as Milne's map of 1791.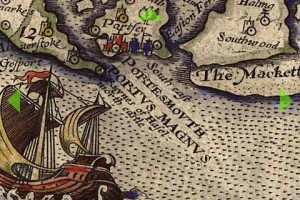 Some have suggested that the original site was under Fort Blockhouse, others that it was where Haslar Hospital was built (note that Hasle, Hasel and Hasler or Haslar are similar) but the most likely site is at Fort Monckton. The remains were still visible until the late 18th Century but were probably obliterated by the construction of Fort Monckton.
The point at 'Hasilworth' seems to have changed to Gilkicker Point after the erection of the two sea marks, Gilkicker and Kickergill circa 1658.
Links to more information
http://www.gatehouse-gazetteer.info/English%20sites/1275.html
http://www.pastscape.org.uk/hob.aspx?hob_id=462029