Coastal Path
The section of the English Coastal Path from Lee on the Solent to Gosport Waterfront passes through Stokes Bay, to Gilkicker Point and then on to Gosport Waterfront via Haslar.
It Includes the Browndown SSSI and the Gilkicker Lagoon SSSI
and passes the No. 1 Battery, Stokes Bay Lines – Scheduled Monument and the Fort Gilkicker – Scheduled Monument.
As a result of the proposals described in this Overview and associated reports for each length of coast, the quality of coastal paths will be improved and there will be greater certainty and clarity about the rights people have within the coastal margin.
A key feature for this area of coastline as a whole is that during the winter months, it supports internationally recognised populations of non-breeding water birds. The extensive areas of soft mud exposed at low tide are the main feeding areas but the birds also need suitable undisturbed places to roost and several species use inland areas that provide supporting habitat for feeding and resting.
GPM1:
Plans for maintenance and improvements to defence structures and beach management and replenishment are in place to provide flood protection to residential areas, commercial property and MoD assets between Lee-on-Solent and Gosport Lifeboat Station, shown on maps GPM 1a to GPM 1d. As such, we have not made any specific proposals to enable the trail to adapt to coastal change on these lengths of coast.The shingle around Fort Gilkicker is identified as vulnerable to erosion up to 2105 in the Shoreline Management Plan. On these lengths of coast we propose to recommend that the trail is able to roll back so that it can be repositioned without further reference to the Secretary of State, once he has approved the initial route. There is more detail about these roll-back arrangements in part 7 of the Overview and in the relevant report.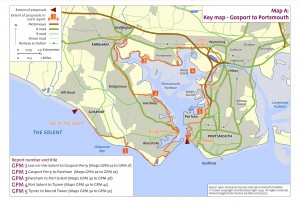 An 'Overview to Natural England's compendium of statutory reports to the Secretary of State' for the Gosport to Portsmouth stretch of coast can be s downloaded and viewed here:
https://assets.publishing.service.gov.uk/government/uploads/system/uploads/attachment_data/file/808559/gosport-portsmouth-overview.PDF